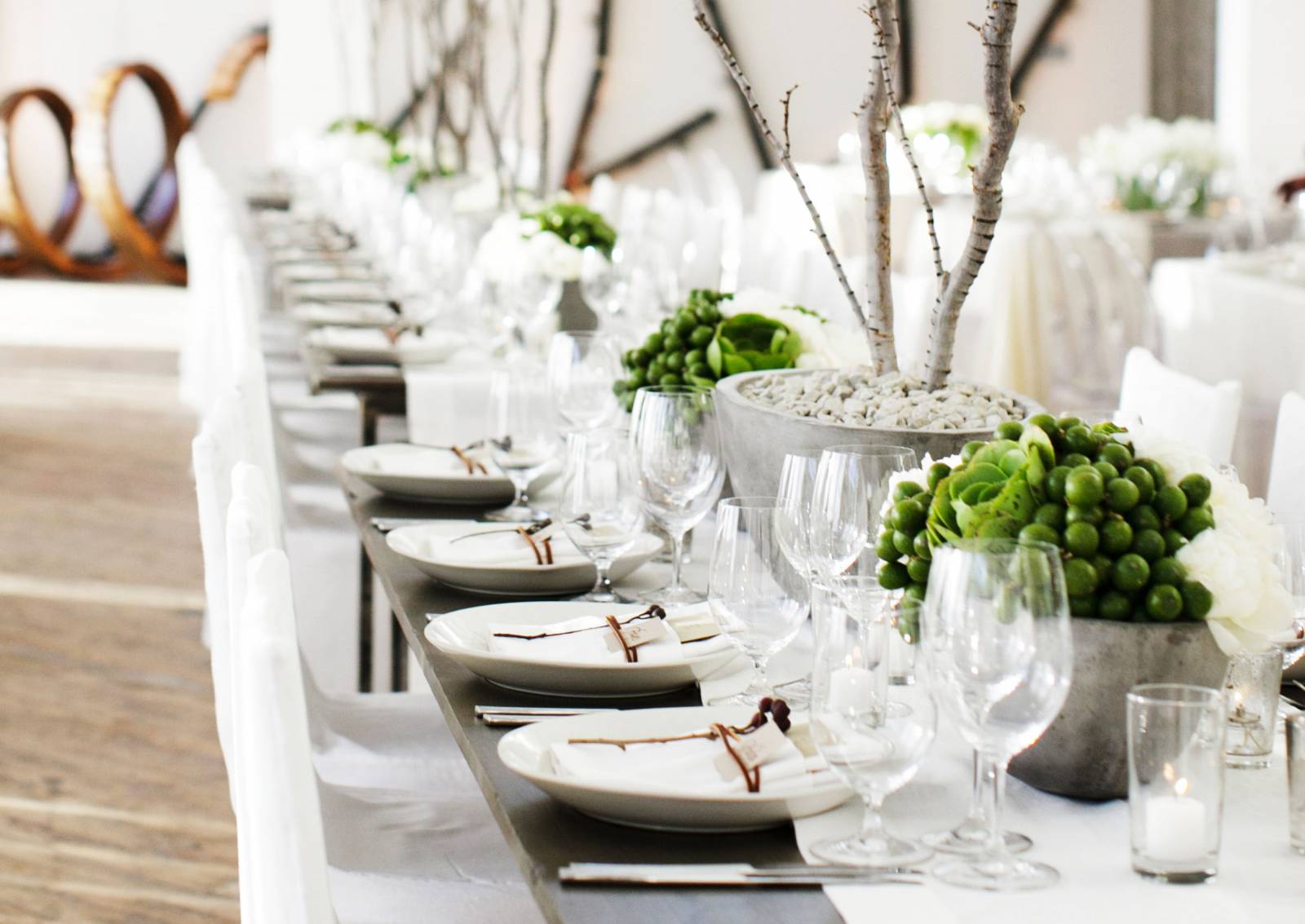 1 | THE BUDGET
The greatest factor to affect your budget will be the number of guests you invite. So, even though you're ready to burst with excitement over your engagement, keep the wedding chatter to a minimum until you've set the budget and know exactly how many guests you can realistically invite.
Will the two of you be paying for the entire event yourselves, or will your parents be contributing? As awkward as it may feel to ask, it's important for the harmony of the family to get a firm answer of exactly how much each set of parents is planning to contribute. The days of the bride's parents paying for the majority of the wedding are long past. So any support offered should be appreciated.
READ MORE> about navigating the parent contribution topic and how involved they'll be in the process.


2 | AN EVENT PLANNER
A common hurdle for brides considering an event planner is the idea of relinquishing control. In reality, you're not giving up control at all. You're simply enlisting the services of someone with the organizational skills and resources to bring your vision to life. They do the footwork and research that allows you to make informed, intelligent decisions.
READ MORE> about the list of valuable services event planners provide.


3 | THE GUEST LIST
Controlling your guest list will enable you to focus more time, attention and budget to the details that make a wedding so unique: the location, invitations, table decor, menu selection, music and other elements that are often limited by large guest lists.
Begin by separating your list into two groups: one comprised of friends and family you simply must have at your wedding, and the other comprised of those with whom you'd like to have, but whose absence you can accept. On average, about 20 percent of your invitees will be unable to attend. As you begin to receive regrets from the first list, immediately send invitations to the like to have list.
READ MORE> about building your guest list and etiquette for handling single guests and no-children receptions.


4 | PAPER + INK
Send your save-the-date cards as soon as the location is booked, especially if the wedding date falls on or near a holiday or school break. A word of caution--avoid committing yourself until you're absolutely sure of how many guests your budget can accommodate. Once your save-the-date cards have been sent, you're committed.
Paper elements are the most effective way to translate your theme throughout the entire event.
READ MORE> about the various paper elements to consider.


5 | THE VENUE
Once you have a solid estimate of your guest count, begin the venue search. Choosing a venue is very much like going house hunting. Having a list of your top wants will save you time.
Do you want the ceremony and reception at the same location?
Are you planning on having a formal sit-down dinner or buffet?
Will you need space for a band or will you have a DJ?
What type of venue are you envisioning- historical, ultra modern, by the water, lots of windows and light, etc.?
Do you want a venue that has overnight accommodations?
Do you want an indoor or outdoor location?
Do you want to bring your own caterer?
Do you want to bring your own liquor?
Do you need an area for child care?
READ MORE> about site inspections, space allocation, booking your site and more.


6 | CATERING
If you are in a position to select your own caterer, try to narrow your list immediately to no more than three. When calling each caterer, have as much information ready as possible - your wedding date, reception location, time of day, approximate number of guests, and degree of formality and theme.
Do you harbor a secret obsession for the Food Network? If so, you're in good company. Couples across the country are releasing their inner-foodie, using both the cocktail party and reception to share their passion for the culinary arts. From Thai to Indian, Italian to Vietnamese, seafood to vegetarian, let your palate inspire. What better way to personalize your day than by sharing your secret love affair with food? The size and generational span of your guest list will influence selections, so take a quick look at your list before placing your final order, making sure there's a little something for everyone.
READ MORE> about calculating the cost, seasonal ingredients, preset options and more.


7 | RENTALS
Event rentals cover a variety of items, such as: tableware, linens, chair covers, tables and chairs, tents, dance floors, candelabras, fountains, plants, props, lounge furniture, vintage furniture, theme decor and more. Before contacting a rental company, have the following information available:
Your event date, time and location.
What items will be provided by the caterer: glass, flatware, china, buffet linens, etc.
What will be provided by the facility: tables, chairs, bar, linens, arbor, etc.
Total number of guests attending, including the bride, groom and wedding party.
Number of wedding vendors being seated.
A tentative floor plan.
Table and chairs for your beverage service and disc jockey.
Food serving style. Buffet stations will need linens for each table and possibly props or decor.
READ MORE> about how to calculate exactly what you need for each element of your wedding, ceremony to reception.


8 | FLOWERS
When interviewing a floral designer, look for their use of color, composition, and overall flair. Share your ideas and your vision, and be open to their suggestions. Ask about the rentals they provide, as many have large prop closets filled with arches, chuppahs, and vases of every size, shape and style. Before your initial consultation, peruse the image gallery, real weddings and style + design blog posts on this site, using the Like feature to save your faves.
READ MORE> about ceremony flowers and how season and time-of-day will impact your order.


9 | MUSIC
There are three major segments for which to plan your music: the ceremony, the cocktail hour and the reception. Performance options include vocalists, instramentalists, disc jockeys and bands. Avoid waiting until the last minute to plan the soundtrack for your wedding day. Music can be a powerful element in creating the ambience, elegance, energy, emotion and even support your theme.
READ MORE> about ceremony and venue restrictions, selecting the right entertainment for your wedding size, and more.


10 | THE RECEPTION
Your reception will account for the majority of your wedding budget and planning efforts. Make the most of both by taking time to orchestrate it.
Most receptions last about four hours. That compressed amount of time should accommodate the following:
Cocktail Hour
Formal introduction of the bride and groom
Seating of guests at their tables
Couple's first dance
Welcome speech or blessing
Dinner service begins
Toasts, to begin as the first course is served
Father-daughter dance, followed by mother-son dance
All guests invited to dance
Cake cutting and dessert course
Newlyweds make a short thank-you speech during dessert
Last song, followed by couple's departure
READ MORE> about transitioning from ceremony to reception, assigned seating and more.