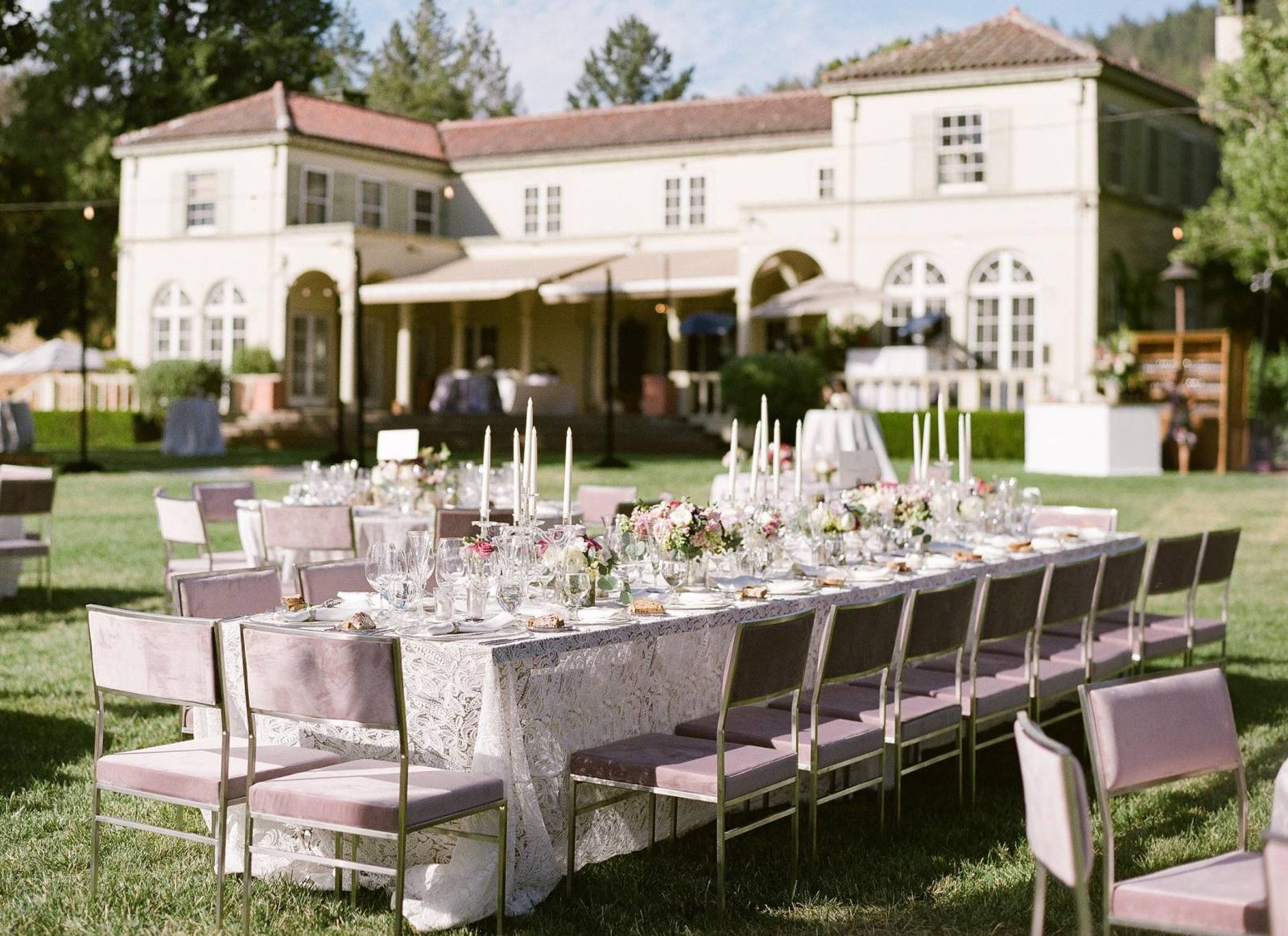 To start, I want to say there's no one trend that suits all. Your wedding is about you as a couple and your particular taste. I come from a fashion background and I know that palettes often change in design, just like your closet. Here in the Bay Area we're trend setters. Telling your event planner you're looking for blush, cream and gold will make them die a little inside (just so you know). You may love that color combo, after all it's been on Pinterest and splashed all over the pages of Today's Bride for the last 5 years, and that's the point...it's been done to death! Fortunately, by leveraging these new wedding trends you can compose that soft romantic look in a slightly different way, like the lilac and lace concept featured above, and make it totally, uniquely you!
3 TRENDS FOR 2019 + 2020
Bold + Beautiful
Oversized floral prints with dark backdrops, stunning gemstone tones, and of course the Pantone color of the year--Coral. Personally, I'm all about drama, so this is my jam! Let's celebrate jewel tones; Emerald=Elegant, Cobalt Blue=Regal, Garnet=Sexy, and Coral= that happy go lucky hue of joy. Feel free to mix these hues, but keep a moody backdrop, as to avoid a rainbow effect. With coral, be careful..no one wants a bad Miami vibe.

Hygge [Scandinavian Simplicity and Joy]
Classic, elegant, and timeless are what you think of with great design. Your closet makes Marie Kondo beam with joy. Neutrals are your life. And no matter how hard your mom is pushing poppy pink, you're not having it. It's ok, I've got you!
We can talk about shades of grey (not all 50 though). The texture of the year--concrete. Taupe, linen white, olive, and the latest--matte black, are the perfect accent to soften the industrial vibe. Matte black gives a richness and depth that makes these soft hues feel like home. Now, even the conservative Nordics need a bit of color. Imagine this: a concrete dining table, linen white ceramic plates, white flowers, black chairs, and a menu that pops with burnt yellow text. I am obsessed with burnt yellow! It's fun, cheery, and a modern yet retro playful take. A softer option would be (gasp!) millennial pink. A perfect metallic accent here would be copper/rose gold, or brass gold.
Back to Nature - Celebrating Earth
Many environmentally conscious couples have been taking a stand in their planning, wanting to practice a softer footprint with their wedding. It can be fun to play with plants as centerpieces. They're light and airy, and still fill the table with a warm and comforting vibe. I've worked with many couples to find unique and creative vessels for plants. A natural wood table with airy green ferns, or a rich linen with a bold tropical are beautiful choices.
What matters in the end is that your wedding represents you. It is an authentic celebration of your love and life.