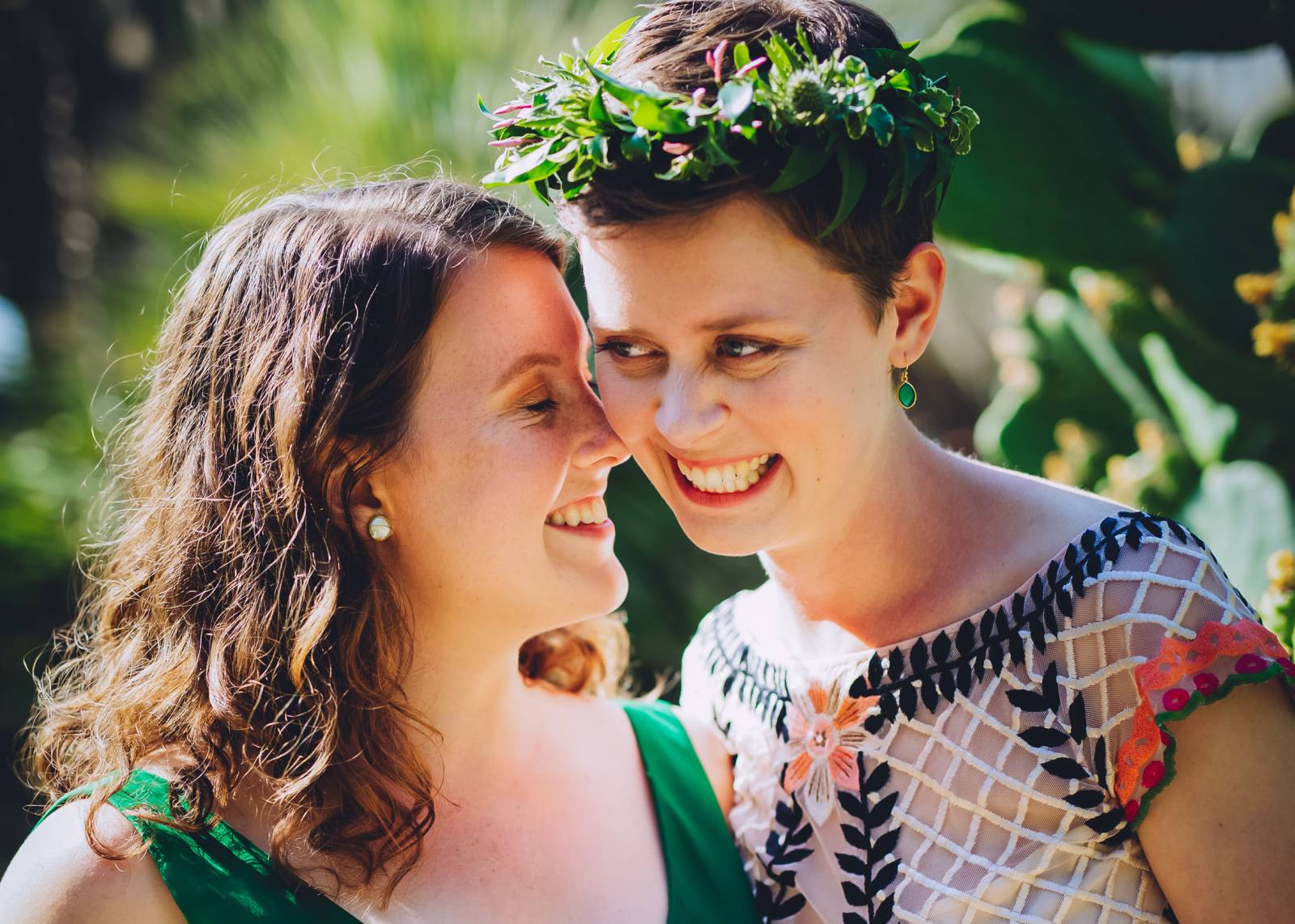 Ellen and Katy married on a beautiful, blue skied Saturday, afternoon in May, at the University of California Botanical Garden-- Mather Redwood Grove, Berkeley, California. "We knew that we wanted a small, intimate wedding, and would feel most comfortable surrounded by people we had both interacted with and had personal connections to, so that helped narrow down our guest list. We also knew we wanted it to be outdoors in a place that was surrounded by greenery and flowers. Once we found the Botanical Gardens - and especially the redwood grove - we instantly knew it was the perfect place for us!"
STYLE/THEME Elegant Outdoor Garden Party
COLOR PALETTE Ivory, Gold, Green + Pink
HOW WE MET
"We met at Smith College when Ellen was a first year and I was a sophomore. We both lived in the same house, Tyler House, and on Mountain Day, we went apple picking together. Afterwards, we exchanged numbers to make an apple pie. A couple days before Halloween, Ellen asked me if I wanted to do a costume together. She said she was going to dress-up as a 1950's housewife and needed a husband--I accepted the invitation. When we went downtown to buy items for the costumes, ended up at a cafe talking for hours, and haven't stopped since."
THE PROPOSAL
"After dating for six years, Ellen went away to NYC to attend graduate school, while I stayed in the same town to continue teaching first grade. After about a month of long distance, I decided that I was going to propose over winter break when we were together in San Francisco. I got a hold of rings from each of our great-grandmothers, asked Ellen's dad's permission and made plans. I asked her to marry me at Sutro Baths in San Francisco at sunset and then we ran off to Sonoma for a few days to celebrate."
HOW WE INCORPORATED CULTURAL TRADITIONS
"It was a queer Jew-ish wedding in which we included only the elements that were meaningful to us. We worked closely with a friend from Smith officiate to craft a ceremony loosely based on Jewish traditions. We got married under a chuppah knitted by our maternal grandmothers and did a variation of the seven blessings. Our officiant, Mira, wrote them based on the themes of the original seven blessings but using our values to guide them. We did the hora and have some great photos of us looking equal parts terrified and delighted."
WHAT MADE OUR WEDDING UNIQUE
"We have always thought about our relationship in terms of colors. Ellen is red and I'm blue. Our partnership is purple, and only becomes deeper purple if we each focus on our own colors as well. We used this metaphor during the times we have lived apart and together. We wanted to incorporate this into the ceremony, so we ordered red glass for Ellen to break and blue glass for me. When it came time, I was wearing thin flats and I couldn't get my glass to break. After we kissed I whispered to Ellen that my glass was still...intact. She whispered back to just go for it. So I held up my dress and stomped as hard as I could and the crowd let out another cheer! Now our red and blue glass shards are together in our colorful mezuzah."
OUR ADVICE
"Don't feel like you have to "perform" a wedding just because you're getting married. Think about what practices and customs you want to include with a critical lens. If it doesn't resonate to you and your love, then toss it. Don't be afraid to describe what you want, even if it differs from the normal expectations."